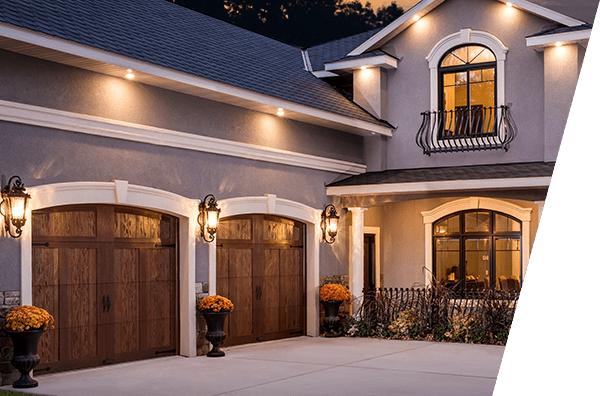 Clopay® Commercial and Residential Garage Doors
Choosing a NEW Garage door with Steel City Garage Doors (Authorized Dealer Clopay)  in Pittsburgh.
As an experienced Garage door company we highly recommend a Clopay door to be your next Garage door manufacturer.
Clopay is the leading North America residential and commercial garage door manufacturer and the only Garage door brand to be recommended by the Good Housekeeping Seal (GHS).
They are the only Energy Star qualify brand for fiber glass and steel door, and the most popular Garage door manufacturer.
Clopay® Garage Door Series
You can choose either steel or wood doors from Clopay Gallery® Collections Coachman® or Reserve®, or go for a more rustic look with a low-maintenance faux wood composite garage door from the Clopay Canyon Ridge® Collection. Clopay contemporary Avante™ Collection combines aluminum and glass in sleek modern designs.
Clopay's Cypress™ Collection combines subtle modern beauty with simple upkeep.
Clopay's Classic™ Collection of steel raised panel and flush panel garage doors will complement most home styles.
Most of our doors are in inventory and can be delivered and installed the next day.
Two layers of heavy duty steel construction inside and outside the door with features polystyrene or Intellicore® insulation in between for excellent energy efficiency, strength, durability and quiet operation.
•  Insulation R-values range 6.5 – 18.4
•  3 panel designs to choose from: Elegant Long (shown here), Short or Flush
•  Two thickness options to choose frpm 2″ and 1 3/8″ .
•  8 colors finish paint or Ultra-Grain®stained wood like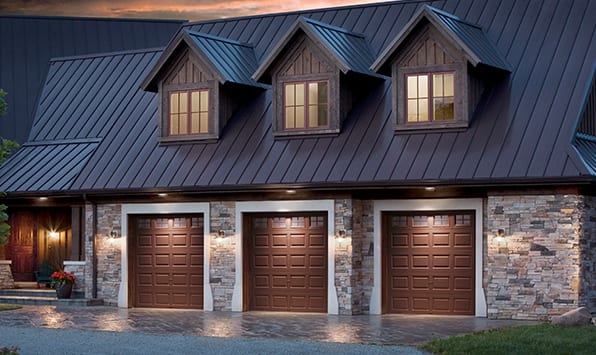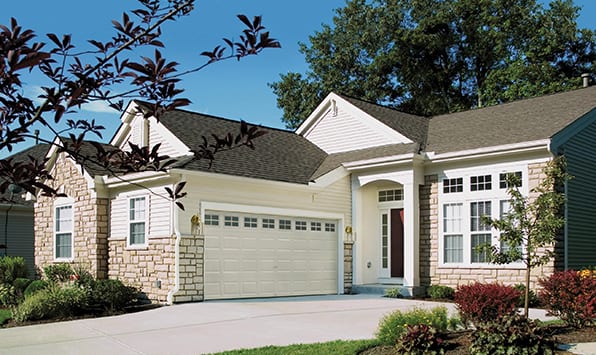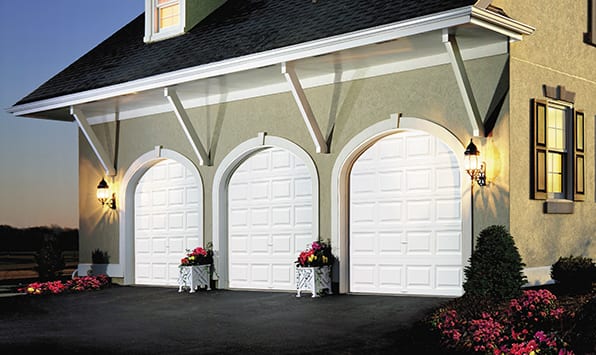 Wood carriage-house style garage doors with the benefits of low-maintenance insulated steel garage door, durable. Coachman doors collection have the appearance of a swing-out door and offer the built-in convenience of modern overhead functionality.
•  Lifetime Door Section Warranty
•  2″ Intellicore®insulated doors provide 6.5 to 18.4 R-value.
•  Windows option and decorative hardware
•  More then 100 unique style combinations
•  Four-layer insulated steel + composite construction
•  4 colors finish paint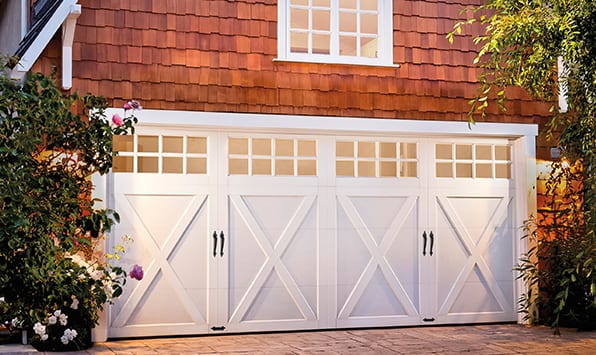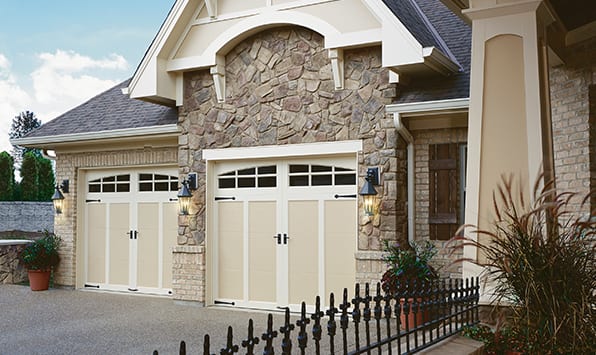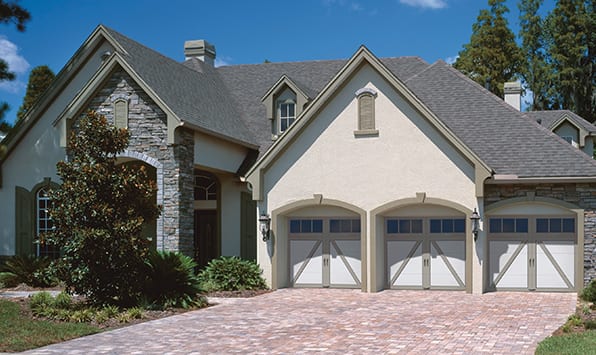 •  Polystyrene insulation or Intellicore® insulation with R-values up to 18.4
•  Swing-out appearance, overhead functionality
•  4 colors finish  paint  or Ultra-grain® stained wood look
•  Ultra-Grain is a unique paint finish, available in Medium and Dark Oak and Walnut wood-grains.
•  Long or short  panel designs with or without windows and decorative hardware option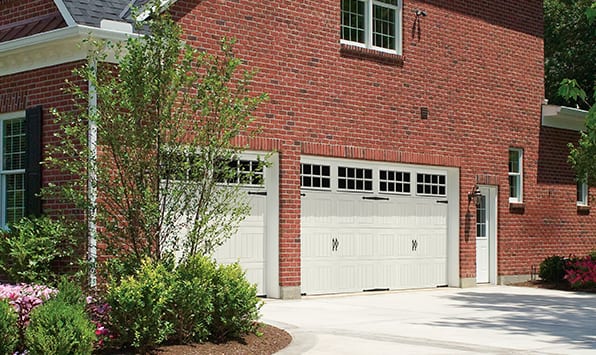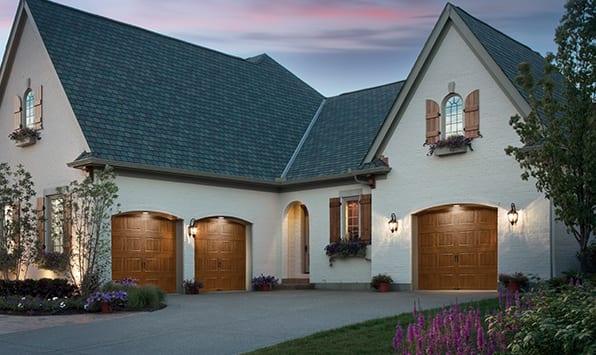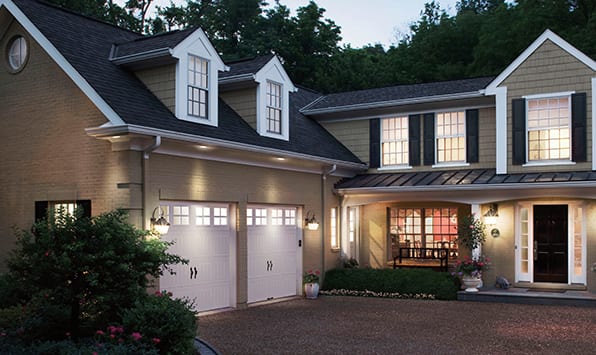 ULTRA-GRAIN® SERIES
Love the durability of steel and the beautiful look of natural stained wood? Get the best of both worlds with CANYON RIDGE® collection ULTRA-GRAIN® series carriage house garage doors. Low-maintenance steel is covered with a composite overlay, molded from actual wood pieces for a natural look.
•  4-layer steel carriage-house garage doors with a faux-wood finish.
•  2″ Intellicore® polyurethane insulation with a thermal break. This garage door has an 18.4 R-value. Features Clopay's Safe-T-Bracket®, a patented garage door safety feature.
•  WINDCODE® reinforcement product available for high wind load applications.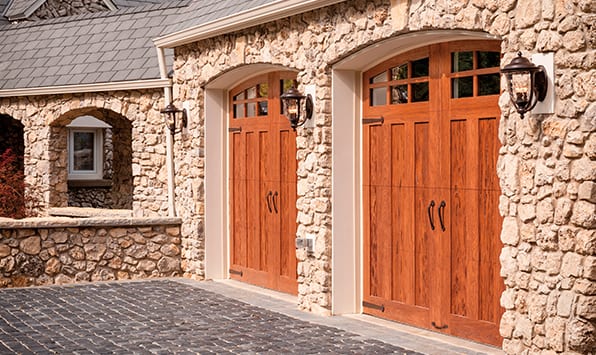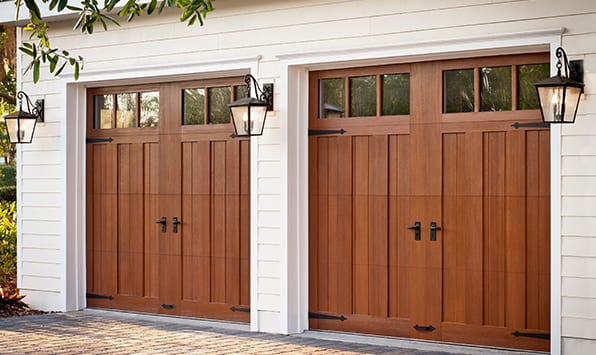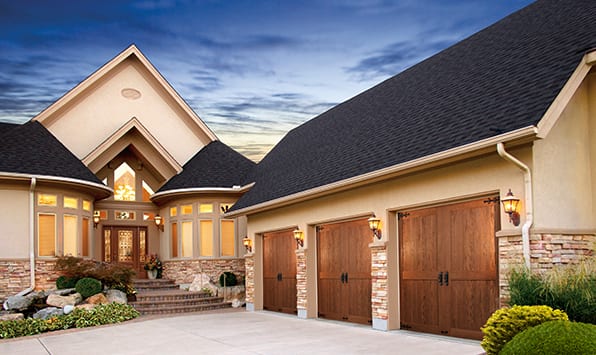 •  Multiple glass, frame and panel finish options available for a customized look.
•  2-1/8″ aluminum frame with integral reinforcing fin provides virtually maintenance free long-lasting door.
•  Seven colors and finish options available. or option of custom color.
•  Insulated glass option available.
•  Simple forms invite the beauty of natural handcrafted wood to stand out, laying the foundation for a warm and welcoming home.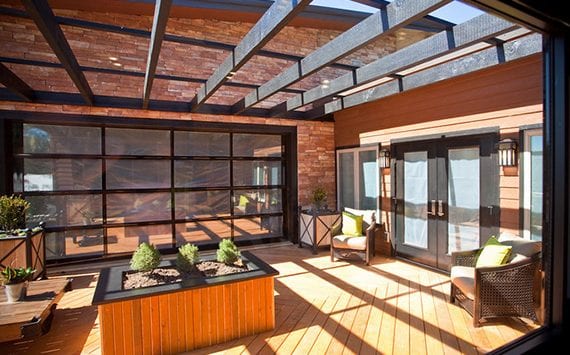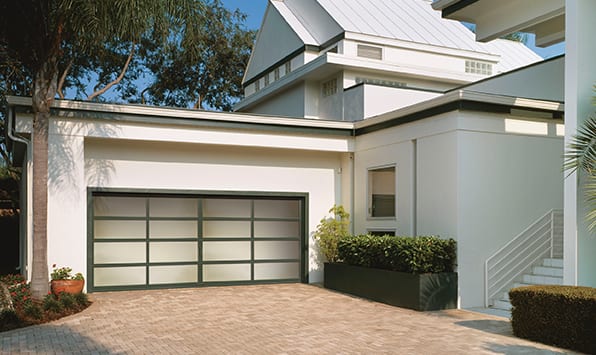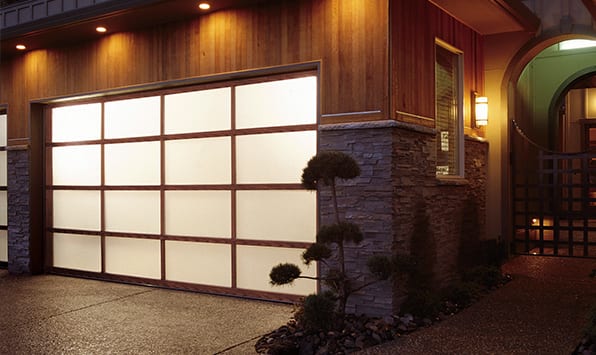 CLASSIC WOOD ™ COLLECTION
•  Wood classic
•  MODEL 44 RAISED PANEL
•  Optional window /Long or short
•  Paint or stain-grade wood
•  Stain-grade wood or paint
•  Section thickness 1-3/8″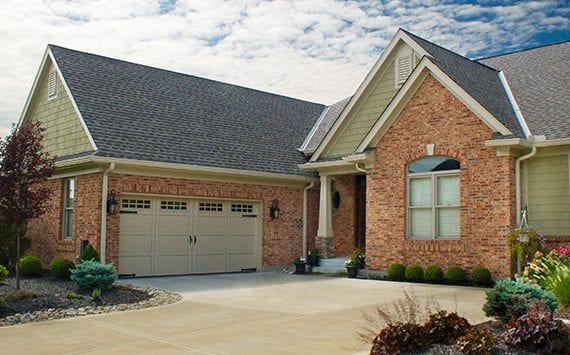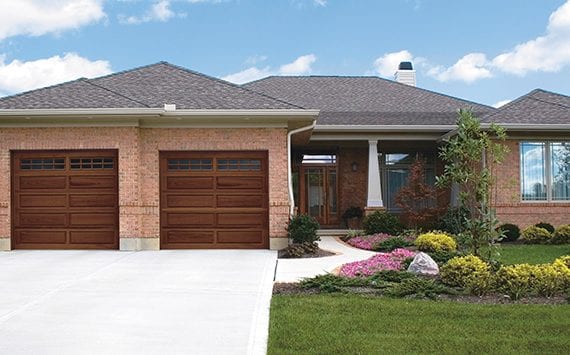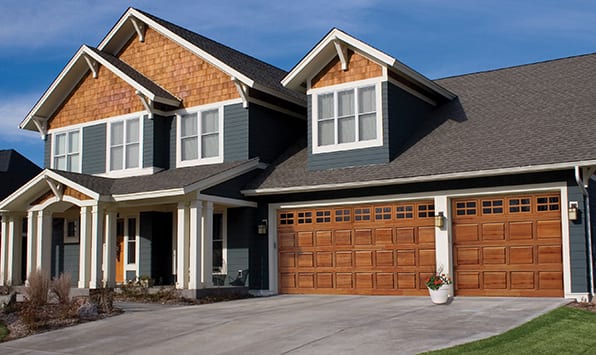 RESERVE® COLLECTION SEMI-CUSTOM SERIES
•  Stain-grade wood or paint
•  Available in seven popular stains colors
•  6 base door designs
•  Windows option and decorative hardware
•  Handcrafted two layer construction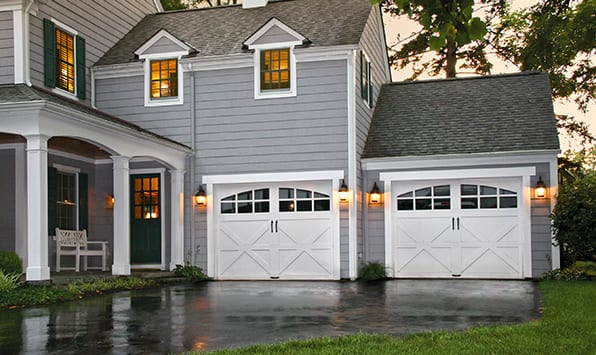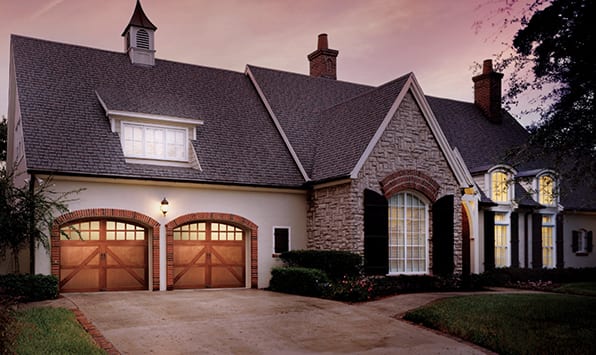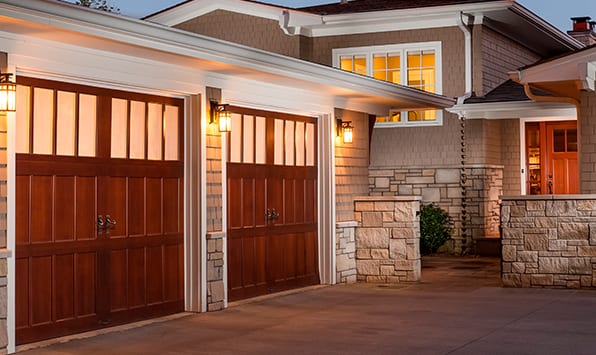 Modern Steel™ collection garage doors are available with a wide variety of options to suit your taste and your home's appearance. Whether your home is mid-century modern, contemporary, or somewhere in between, these beautiful and durable steel-panel garage doors will add curb appeal to your home's exterior.
•  Available in 3, 2 or 1-layer steel and insulation construction options.
•  Garage door insulation options include 2″ or 1-3/8″ Intellicore® polyurethane, 2″, 1-3/8″, 1-5/16″ or 7/8″ polystyrene.
•  Insulated door R-values range from 4.4 to 18.4.The steel skins are protected by the use of a tough, layered coating system, which includes a hot-dipped galvanized layer and baked-on primer and top coat.
•  WINDCODE® reinforcement product available for high wind load applications.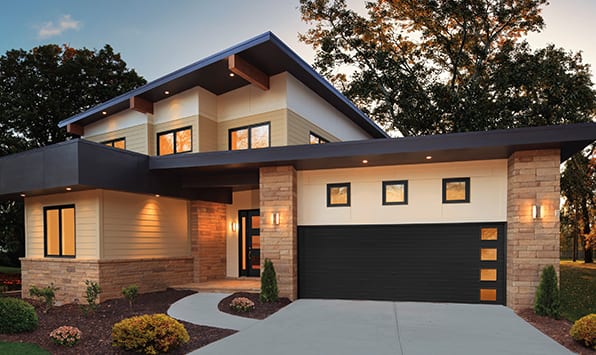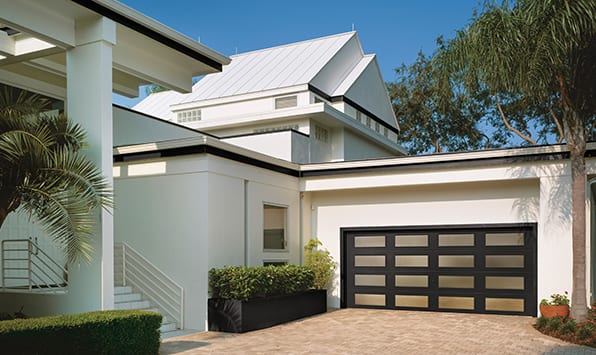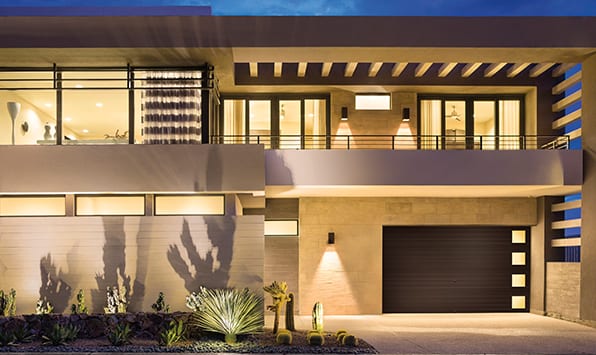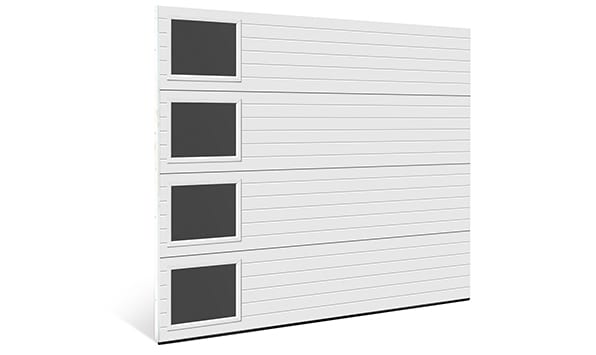 24/7 EMERGENCY SERVICE FROM AN EXPERT GARAGE DOOR CONTRACTOR
We offer both 24/7 emergency services and same-day services. We keep our trucks stocked with replacement parts to get your project completed as quickly as possible.