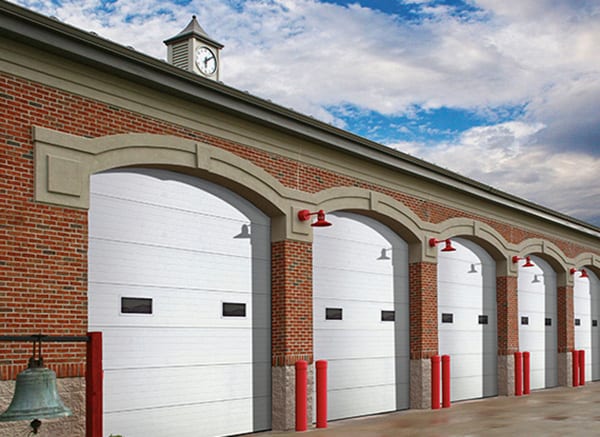 Commercial garage doors are much like their residential counterparts in that they protect the building's interior contents while still offering a convenient way inside. However, unlike residential garages, commercial garage doors are often much heavier, and they're much more secure. They're needed when organizations and businesses have many more assets to protect, but these heavy-duty garage doors come at a cost. They're generally more expensive, and installation can be much more difficult. It's a tricky process to handle on your own, but thankfully, you don't have to when you can rely on the experts at Steel City Garage Doors for all your commercial garage door installation needs.
At Steel City Garage Doors, we have almost 100 years of experience with garage door installations in Pittsburgh, PA, and we can use that experience to help you with your own installation needs. We can handle the installation of whichever size and shape of garage door you require, including:
Aluminum garage door
Aluminum and Glass
Insulated Steel garage door
Commercial garage doors are not one-size-fits-all, and when you're looking for a commercial garage door, you should work with a company that will offer an individualized solution. At Steel City Garage Doors, we can easily identify and accommodate your organization or business's unique garage door needs.
Steel City Garage Door is the commercial garage door installation company you can count on to get the right door for your unique needs and preferences. Our technicians have years of experience, and we know how to set you up with a safe, secure, and stylish door. In addition to installation, our technicians can also help with repairs and maintenance. Our team is available to help you 24-7 so that your garage door runs smoothly instead of getting in the way. If you need commercial garage door services in Pittsburgh and don't know where to go, look no further than Steel City Garage Doors!
If you're wondering if your business or organization needs a commercial garage door, let us convince you. These doors are an incredible way to bring in and ship out goods with plenty of room to spare. The ability to load and unload goods and equipment quickly and efficiently is important, but these doors also make it easy to bring in larger vehicles, such as forklifts, tractors, snowplows, or any other heavy equipment you need and use. It's also important to note that this increased accessibility doesn't come at the cost of security. A properly installed garage door is secure and will protect your organization from intruders—both humans and pests—and keep your equipment secure.
Whenever you need a new garage door, let us help. Steel City Garage Doors understands how vital these components of any commercial operation are, and we want to help take the burden off you and help with installation, repairs, and maintenance. With our years of experience and abilities, we can meet whatever garage door need you may have!
24/7 EMERGENCY SERVICE FROM AN EXPERT GARAGE DOOR CONTRACTOR
We offer both 24/7 emergency services and same-day services. We keep our trucks stocked with replacement parts to get your project completed as quickly as possible.
Whether you need a new garage door or some simple repairs to spruce up appearance and functionality, our professionals are happy to assist you.
He took less than a minute to fix my garage door. Then he refused to take any payment at all! This guy is great. Highly recommended.
EXCELLENT, provided prompt service!! Extremely polite and professional staff, the quality of work was amazing! We had a complete garage door installation. Service was very cost efficient. The whole process was made easy thanks to the entire crew at Steel City Garage Doors. If you don't use Steel City, your not getting the best!!!
Found them on Yelp, and they were the fastest, most straight forward home repair/maintenance company that I've ever used. This is saying a lot, as I've been an homeowner for nine years now. I've used referrals, Angie's list, other online reviews, and got really lucky with finding Steel City Garage Doors this time.
Steel City Garage was extremely helpful in fixing the issue I had with my garage door. They diagnosed the issue within minutes and in addition to fixing the problem they provided regular maintenance for the door at no additional charge. They were available the same day that I called and worked around my evening schedule.